There is something extraordinary about this time of year, and if it were up to us, summer would last all year long.
The days are longer. The sun is warmer. The water looks a little bluer. And the drinks are just better. We're not saying the drinks you enjoy in any other season aren't phenomenal. But, cocktails that embody an eternal summer are downright fun.
How can you not smile a little wider when you sit poolside with a tequila tiki drink in hand? That's right, "tequila tiki drinks." It's not just rum (and a tiki mug) that makes a tiki drink.
It's Not All About that Rum in Tequila Tiki Drinks
It seems like rum's always been number one when it comes to tiki cocktails. Admittedly, it's the spirit most typical of the island-inspired drinks. But it's not the only one.
Gin makes an appearance in several traditional tiki drinks like the Rangoon Gimlet, the Suffering Bastard, and the Saturn.
Vodka shines in the most popular vodka tiki drink, the Chi Chi. And while we can appreciate the beauty and deliciousness of gin, vodka, and whiskey tiki drinks, it's tequila tiki drinks that are the star of this story.
These are a Few of Our Favorite Tequila Tiki Drinks
El Diablo
The devil is in the details in this tequila tiki drink. A tempting mix of Reposado tequila, crème de cassis, lime juice, and ginger beer, the El Diablo is a traditional drink that deserves to fill any tiki mug.
Make the El Diablo:
1.50 oz Azuñia Reposado Organic Tequila
0.50 oz Crème de Cassis
0.50 oz Fresh Lime Juice
2–3 oz Ginger Beer
Combine all ingredients, except ginger beer, in a shaker and shake.
Strain into an ice-filled Collins glass.
Top with ginger beer
Garnish with lime wedge, fresh blackberries, and candied ginger.
Vicious Virgin #2
A quintessential blue tiki drink, the Vicious Virgin #2 proves that you shouldn't judge a drink by its color. It's a spirited blend of fresh citrus, BG Reynolds' Orgeat, Blue Curaçao, rum, and blanco tequila. Be mindful, with that boozy mix; it's a cocktail that bites.
Make the Vicious Virgin #2:
0.75  oz Fresh Lime Juice
1.50 oz Fresh Grapefruit Juice
0.50 oz B.G. Reynolds' Orgeat
0.25 oz Blue Curaçao
0.75 oz Light Rum
0.75 oz Azuñia Blanco Organic Tequila
Combine all ingredients in a shaker with ice and shake.
Strain into a rocks glass.
Garnish with fresh citrus slices.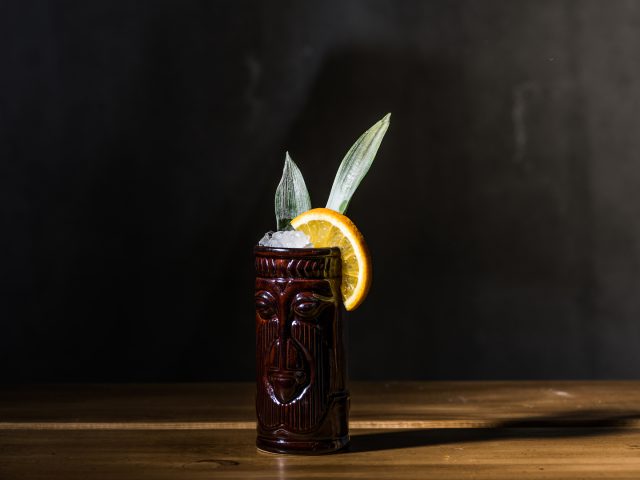 Tequila Boxer
The Margarita's Polynesian cousin, the Yellow Boxer, is a delightful tiki drink perfect for batching for your next pool party. Mixing tequila, fresh citrus, and BG Reynolds Lime Cordial with crushed ice makes it just like the boozy snow-cone you've always wished existed.
Make the Tequila Boxer:
1.50 oz Azuñia Blanco Organic Tequila
0.75 oz Each Fresh Orange and Lemon Juices
0.75 oz BG Reynolds Lime Cordial
8 oz Crushed Ice
Combine all ingredients in a shaker with ice and shake.
Pour into a rocks glass and top with more crushed ice.
Garnish with fresh citrus slices.
Trader Vic's Matador
Trader Vic's Matador is the simplest tequila tiki drinks on our list. With only three ingredients, Blanco or Reposado tequila, pineapple juice, and lime juice, it is quite possibly the best one to consume under a large umbrella (with a tiny umbrella) on a hot summer day.
Make Trader Vic's Matador:
2 oz Azuñia Blanco or Reposado Organic Tequila
3 oz Pineapple Juice
0.50 oz Fresh Lime Juice
Combine all ingredients in a shaker with ice and shake.
Strain into a rocks glass.
Garnish with fresh citrus slices

Just Add a Tequila Tiki Drink Maestro
Now you have all of the ingredients you need for an eternal summer celebration. Invite some friends over, batch a refreshing tequila tiki cocktail, then relax, sit back, tiki and chill.
And if you're lucky enough to be joining us in New Orleans for Tales of the Cocktail 2108, hit up our poolside event with American Beverage Marketers – "We're more than just Diablos & Sunrises: Tequila in a Tiki Oasis". World famous bartender, Jason Asher, will be mixing up drinks and talking all things tiki at the Hotel Monteleone rooftop pool.
Jason, a Scottsdale, Arizona-native, began his career working in restaurants throughout high school and college. His trajectory from bartender to mixologist crossed California and Arizona. In 2010, Jason won the prestigious GQ Bombay Sapphire's "Most Inspired Bartender" nationally. He has been featured in numerous national publications, including Esquire, Imbibe, Tasting Panel, Food & Wine, GQ, and Saveur. In April 2013, Jason was awarded "Top 100 Culinary Trendsetters" by the Scottsdale Culinary Festival. He is an owner of Barter & Shake Hospitality Group, which and manages Arizona-based  Century Grand Cocktails + Dining and Tiki Speakeasy-esque Undertow.
Pick Up a Bottle
You can find Azuñia tequilas at fine restaurants, bars, and retailers across the country.
white
SaveSaveSaveSave
SaveSave
SaveSave
SaveSave
SaveSave
SaveSave
SaveSave
SaveSave
SaveSave
SaveSave
SaveSave
SaveSave