Our Friday night favorite: home-based happy hour. What's better than enjoying a premium cocktail from the comfort of your own home? Whether it's hosting an adult sleep-over with your closest friends, entertaining a few lucky neighbors, or throwing a classy dinner party, planning the perfect get together  takes work.
It can be intimidating to be in charge of everything. From decorating, to cheffing, to DJing – there's a lot to figure out. However, one of the essential elements for a perfect night is a well-balanced cocktail. If you're the official home bartender this Friday night, remember these bartending basics and easy ideas to launch you to an expert mixologist level.
Basic Bartending Knowledge 
When it comes to bartending basics, remember 2:1:1. It's that simple. Two ounces of your base liquor to one ounce of the sweet ingredient to one ounce of the sour element. Your base spirit will be the flavor that finishes the drink, as it's the dominant ingredient. The sweet can be any component you choose that complements your base. Think soda or juice or even a liqueur like chocolate or berry. The sour could be a fresh squeeze of tart citrus, a drop of pickle juice, or a pre-made sour mix. Remember quality counts when selecting a pre-made sour. Better yet, make your own by adding simple syrup to a mixture of lemon and lime juices.  
The only limit to a harmonious home-crafted drink is your imagination.
Treat your DIY bar like a lab and experiment with your favorite flavors. Or try some flavors that you usually don't like. You may be surprised by what you create!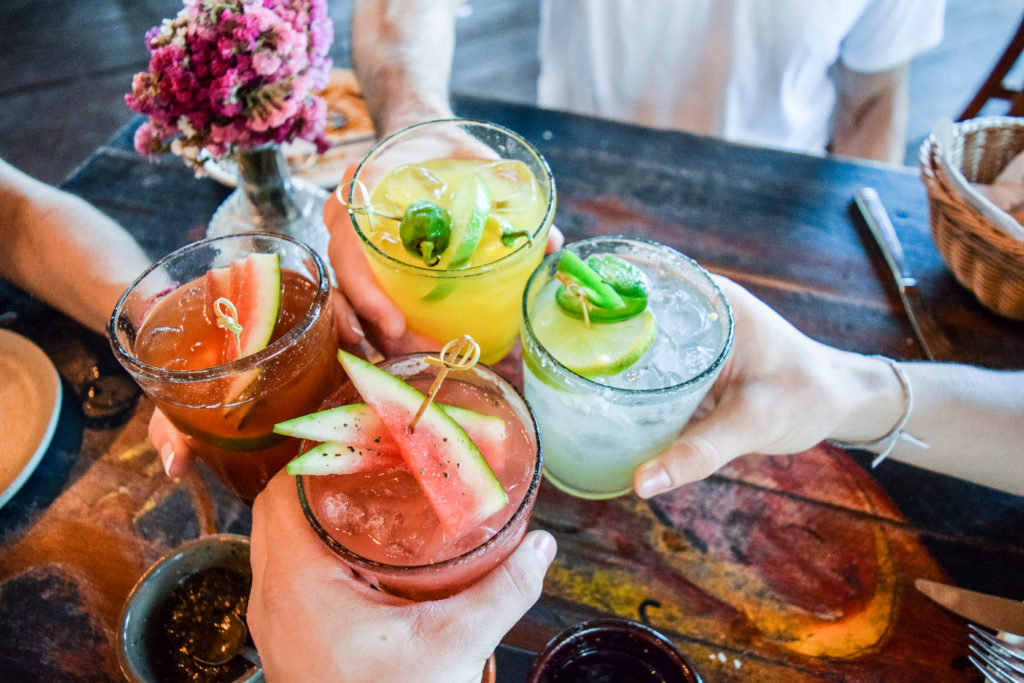 Master The Basics of Bartending 
Once you master the basics of bartending, you'll have the confidence to take a few steps outside of your comfort zone. Then you can really wow your guests (and yourself) at your next margarita party.  Add in a dash of surprise and an element of complexity with aromatics. These subtle ingredients add specific scents that play to multiple senses as you sip.
In this new era of craft cocktails, bitters are making a big comeback. They are an easy aromatic add-in and come in many essences to enhance a flavor with only adding a few drops. Bitters pack a punch in small doses, so use them sparingly.
Another way to add aromatics to your drink is by either coating the inside of your most fancy glassware (or red solo cup) or on top of your finished cocktail with an essential oil, like Rose Water or Orange Flower Water, or strong liqueur, like Absinthe. Essential oils are a great way to introduce herbs and fruit flavors while using very little actual substance.
Adding just a hint of aroma keeps your "2 to 1 to 1" ratio in check and makes the most spectacular custom cocktails. Not to mention, your mixology experiments might earn you the title of "world's best hostess."
Our Favorite At-Home Cocktails
Practice makes perfect – especially when it comes to creating craft-cocktails. Put your home-bartending skills into action with these sophisticated yet straightforward Azuñia cocktail recipes that are sure to satisfy.
The Bloody Maria is a tequila-twist on the classic Bloody Mary and has become one of our favorite brunch cocktails. Swap out the vodka for Azuñia Blanco organic tequila, add your favorite garnish, and enjoy.
Our honest expression of an organic skinny margarita, The Azuñia Organica is light on calories but not on taste.  Whether you prefer Blanco or Reposado tequila, this crisp, natural, and all-organic cocktail will leave you ready for a second round.
This mule is going south of the border. Ditch the vodka and upgrade to Azuñia tequila to create the Mexicali Mule – a fizzy cocktail you can enjoy any time of the day.
It All Adds Up
You've set the table, planned the menu, and now you even have the formula for the best mixed drinks. So, put on that playlist and get busy making cocktails.
Think you have created the perfect balance in a glass?  Tag us on Instagram to show us what you're mixing up!