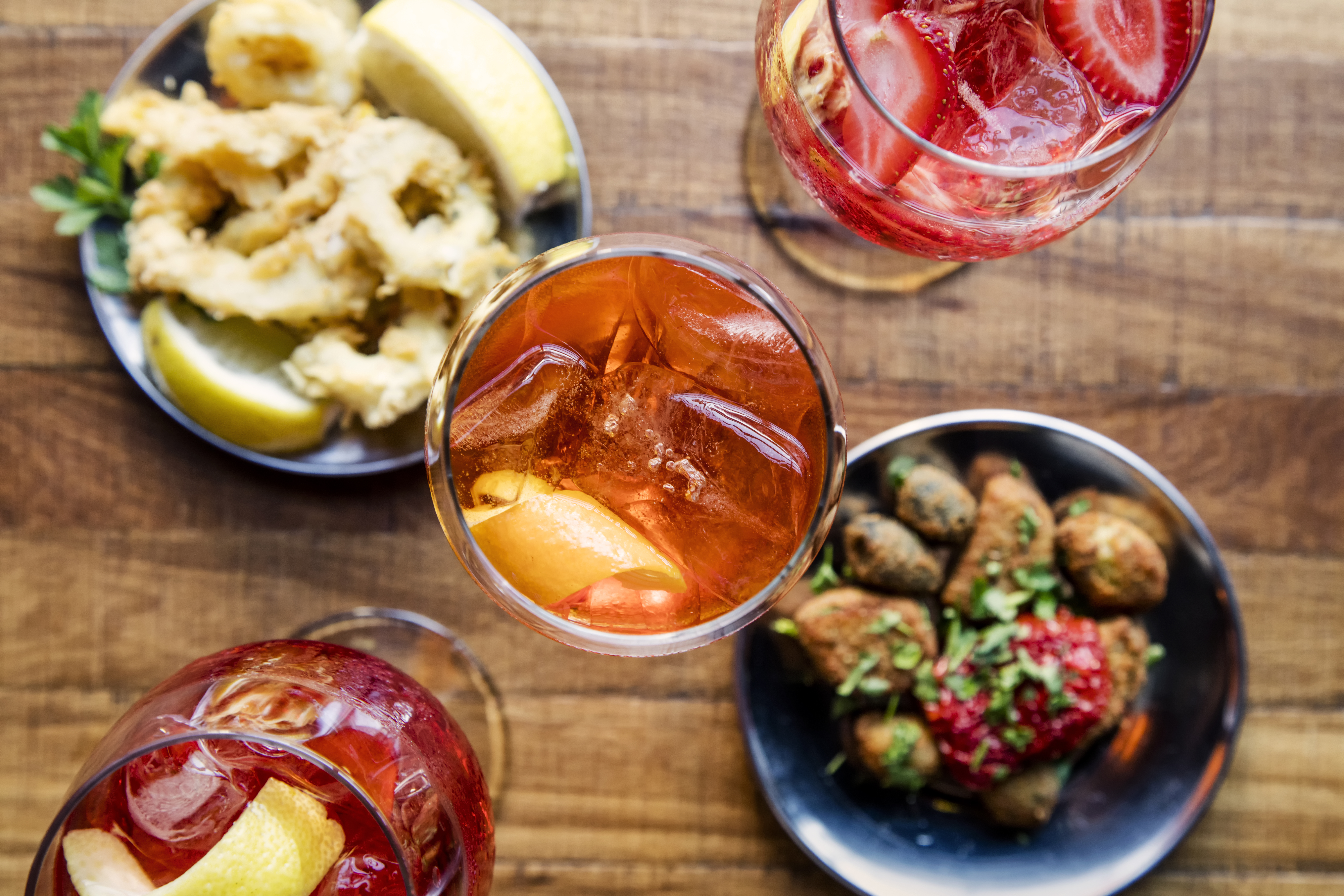 The transition from summer to fall has begun – which means it's time for the leaves to change, the temperature to drop, and football Sundays to commence. Although we look forward to a festive football party, our truly favorite aspect is the snack spread. When it comes to food pairings, we don't discriminate. Beer and salty snacks like pretzels, peanuts, or popcorn may be "the classic"  bar food combos, but it's time to upgrade to tequila-influenced noshes to fire up the fall season.
Best Bar Foods: Countdown to Our Favorite Apps
Food makes any hour better – but especially a happy hour. With a cocktail in hand, a well-suited snack can set the tone for the rest of your evening. That's why we recruited our top 5 favorite bar foods to pair with our favorite tequila. Let the countdown begin…
5. Queso AKA Flaming Hot Cheese
Flaming hot cheese. Need we say more? 
The Queso Flameado from Liquor.com is no ordinary cheese dip. With chorizo, diced green chiles, 2 ounces of tequila, and (of course) cheese, this queso dip is en fuego – literally. Once assembled, the dip is set ablaze. Once the flames subside, grab a chip and dive in! 
If you're like us, there's no such thing as too much tequila. So, if you were to enjoy a tequila drink along with the queso, we'd suggest a simple, yet perfect, pour of Azuñia Reposado organic tequila. Why complicate such an elemental taste sensation?
4. Pop To It
Next to pretzels, popcorn wins as the most classic bar food. The buttery salty goodness pairs with just about any drink from beer to tequila. In fact, tequila and popcorn pair so well that the Citizen Public House in Scottsdale created an heirloom popcorn infused cocktail. The Agave Maize is a cocktail and bar food combo that you'll want to pop up at any hour.

3.The Sensible Choice – Ceviche
When you want to lighten up your happy hour, one of the best bar foods is ceviche. Chopped whitefish, shrimp, plum tomatoes, diced onion, and chili peppers marinated in lime juice make this a snack worth dipping. Ceviche fish is actually "cooked" in a process called "denaturation" whereby the protein structure of the seafood is altered (cooked) by the citrus.
Try it yourself with this easy ceviche recipe from Chef Joanne Weir paired with a classic tequila cocktail like the Paloma. We think you'll agree that this light, bright citrus combo deserves its spot at number 3 on the list of the best bar foods – the tequila edition.

4. Jalapeño Poppers – Covers Spicy & Cheesy App Categories
Jalapeño Poppers are a snack staple, but sometimes you may not have a fryer handy. Now you can enjoy this cheesy appetizer in a whole new, easier way. Introducing the Jalapeño Popper DIP. A creamy cheesy dip with roasted peppers is everything we love about jalapeño poppers, but it's easier to enjoy. 
We suggest lightening up the spice and cheese with the El Arnoldo. The spiked Arnold Palmer is refreshing enough to cut the heat of the dip and sweet enough to balance the spice.

1. Nachos Reign Supreme 
It's no wonder why nachos have claimed the number one spot on our countdown. With crunchy chips covered with melted cheese, loaded with guacamole, and a plethora of other toppings, this layered bar food is ideal for sharing. 
While the recipe is simple enough, nachos are even more enjoyable when you let someone else cook them for you. Lucky for us, Thrillist scoured the nation and compiled the top 21 nacho suppliers in America to make sure you know where to fulfill your next nacho craving. To cool your taste buds alongside the "nacho average" best bar foods, try the simple Organic Skinny Margarita. Because "balance" is everything.
Still Hungry?
If this high of caloric intake is too much for you to bear, we have some healthier options when it comes to happy hour cocktails on our blog. Take a look at our recent blog posts for some veggie alternatives. Or better yet, sign up for our newsletter and never miss a tequila trend again.
Want to connect on a more personal level?! You can find Team Azuñia on Facebook, Instagram, and Twitter!
Pick up a Bottle
You can buy Azuñia tequilas online to have premium, 100% agave tequila delivered to your doorstep.
white
SaveSave
SaveSave