Caitlin Barth is a CrossFit Coach at CrossFit PHX in Scottsdale, AZ. In this guest blog post, she discusses how to reach your fitness goals without giving up drinking.
As a fitness and nutrition coach, one of the first things people like to tell me about in regards to their current eating habits are all of the things they don't eat or drink. You can imagine that alcohol comes up a lot on those lists! And since we are all elbows-deep in our first couple weeks of New Years' Resolutions, I figured I would help guide our readers in a more fun direction – the fact is, you CAN still smash your fitness goals without giving up drinking! 
I coach CrossFit at the CrossFit PHX gym in sunny Scottsdale, AZ, and run my own nutrition coaching business, Macros & Metcons. Between hitting intense, sweaty workouts and regularly eating pretty healthy, I think there's a big misconception that we fitness people never drink! On the contrary – even fitness trainers like me enjoy cocktails, beers, and wine, just like everyone else.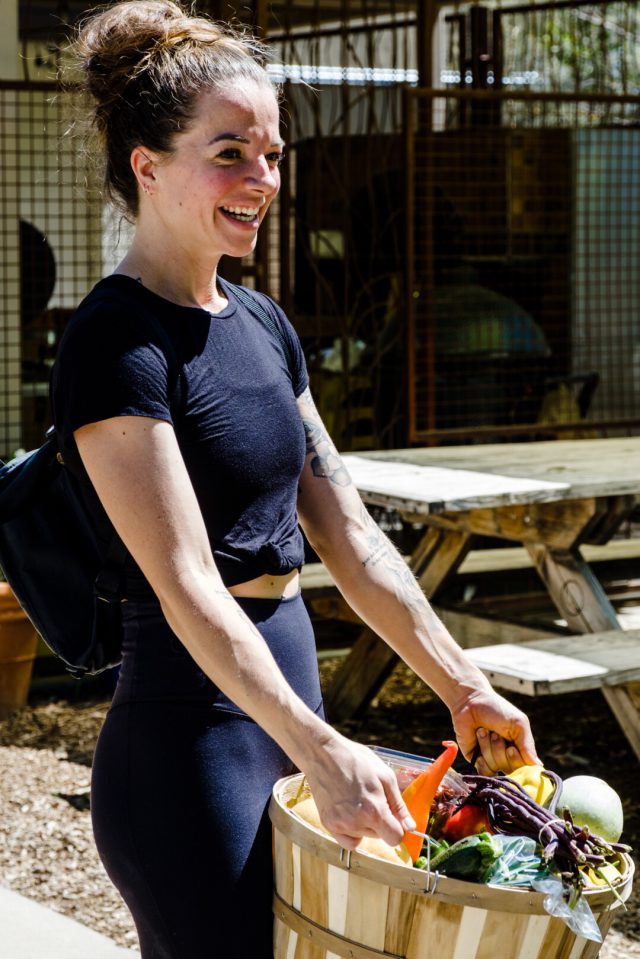 Do I have to stop drinking alcohol?
In my years of nutrition coaching, the most common question I get is, "Can I still drink alcohol?" There's no one-size-fits-all answer. At Macros & Metcons, we emphasize tracking macronutrients, which are proteins, carbohydrates, and fats, and the amounts of each are different for everyone based on their lifestyle and goals. This is known as flexible dieting. By tracking these macros consistently, we can achieve changes in body composition, strength, energy, and more. 
Now, alcohol doesn't contain macronutrients – but don't get too excited, it still has calories! This is why most diets either suggest you keep drinking very limited or none at all. Alcohol provides no nutritional value – the very definition of "empty calories." 
That's not to say my training clients don't drink, though! Before I devoted myself full-time to Macros & Metcons, I bartended and served for over 10 years. While studying nutrition, I started to figure out how to enjoy my beer (and a shot of tequila) after work and still reach my own health and fitness goals. 
Calories in Alcohol
Think of nutrition like your financial budget. There's a certain amount of food and nutrients you should consume every single day to reach your weight loss and nutrition goals, so you want to spend those calories wisely. If your goals are to lose a couple pounds and feel better in your clothes, you might have more "flexible spending" to enjoy a cocktail or two. If your goals are more specific, like training for a triathlon or competing in a sport at a particular weight class, your nutrition "budget" might be a little tighter. 
Another thing I help my nutrition clients with is making better choices when it comes to enjoying a drink. For example, understanding the amounts of calories in different types of alcoholic beverages. A five-ounce glass of wine contains about 125 calories, a 12-ounce beer contains about 145 calories, etc. Distilled spirits, like Azuñia organic tequila, have about 96 calories per 1.5 ounces (a typical amount of calories in a tequila shot), so they're going to be a better bang for your calorie buck! 
What about calories in cocktail mixers?
When it comes to distilled spirits, choosing your cocktail mixers is super important. If you're trying to keep the calories low, you'll want to avoid adding sugar-laden liqueurs or aromatized wine, since they're going to be higher in sugars, thus higher in calories. You would also want to be cautious about adding sugary sodas, ginger beers, and tonic for the same reason. Choose a smarter sweetener like Stevia in place of simple syrup for your paleo and keto-friendly cocktails. Stevia, for example, contain no calories, but they're hundreds of times sweeter than regular sugar, so very little goes a long way! 
If you want to mix an alcoholic drink with the least amount of calories, try muddling in fresh fruits and herbs. Not only does this keep the calories low, but gives you the added benefits of vitamins and minerals. Sparkling water is another low-calorie drink option in place of sodas because it adds effervescence and texture without additional calories. Azuñia Organic Agave Syrup is another delicious, lower-calorie sweetener and adds a honey-like texture to your cocktails for only 30 calories per tablespoon. 
What a CrossFit Trainer Drinks 
Beautiful weather almost year-round in Arizona means sitting on a patio enjoying a refreshing cocktail with friends after a morning CrossFit session. As a nutrition coach, I want to be able to enjoy my drink guilt-free, and the Azuñia Organica Skinny Margarita fits the bill. With Azuñia Blanco Organic Tequila, Azuñia 100% Agave Syrup, and fresh lime juice, this organic margarita comes in at only 134 calories and 9 grams of carbs. It's also customizable, so it makes a great base to make it into a spicy margarita with jalapeños, or a fruity margarita with strawberries!  
So, whether you love a glass of red wine or a spicy margarita, figuring out what's going to best suit you and your fitness and nutrition goals is the first step. What's in your nutrition budget? We believe that life is all about balance, and that means you can still enjoy a cocktail every once in a while, and still make progress toward your health and fitness goals. Cheers! 
About the Author – Coach Caitlin B: 
A longtime Arizonan, I didn't find my passion for fitness and nutrition until after college. I had quit sports in high school, and it took me a long time to fall in love with fitness again. Naturally athletic and competitive, I found CrossFit in 2012 and fell in love with the intense workouts and supportive community. 
Wanting to do more, I approached the owner of my gym, CrossFit PHX, about implementing a nutrition program to better help members achieve their strength and aesthetic goals. An experienced "flexible dieter" myself, I ate up everything I could about sport and exercise nutrition and got certified through Precision Nutrition. I then founded Macros & Metcons in 2017. I've learned through personal experience and working with clients that nutrition not only impacts performance and body composition but the overall quality of life. 
Running my own business has brought on many challenges but so much reward. I was able to leave the restaurant industry after over ten years of serving and bartending to run Macros & Metcons full-time and give all my attention to my clients. I've gained an incredible network of entrepreneurs to help guide and mentor me as I grow my business. My clients will tell you I'm their biggest cheerleader, that I meet them where they're at, and that I'm tough but fair. More than anything, I want to assist as many people as possible in their journeys to healthier bodies, better relationships with food, and teach them that real nutrition does not mean restriction. Here's to a life full of food (and drink!) freedom!