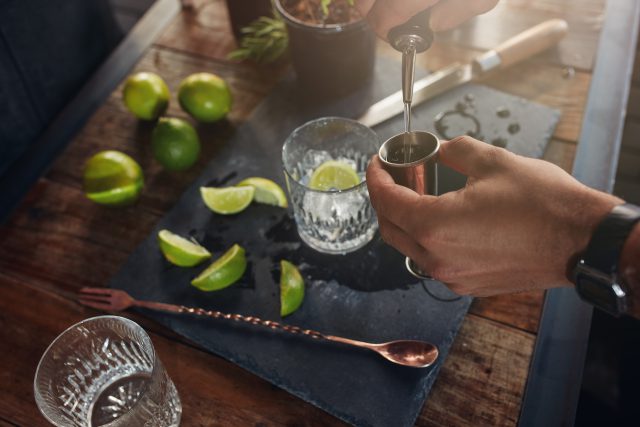 There's nothing quite like a refreshing cocktail to unwind at the end of the day. While our favorite liquor, tequila, is naturally low in calories at about 96 calories for 1.5 fluid ounces, the sweeteners used to add balance to your mixed drink can often pack quite the sugary punch. Artificial sweeteners and even regular cane sugar can add unnecessary calories to your diet, potentially presenting a whole host of sugar-related health problems.
Luckily, there are several other cocktail sweeteners (some of them much more natural than refined sugar) that offer many uses and benefits. Each sweetener has its own lengthy list of pros and cons with it comes to your health, but each holds a special place in regards to mixology.
Whether natural or artificial, sugar is vital for mixing a balanced, great-tasting cocktail. It can be hard to know how much sugar you're consuming since sweet ingredients vary greatly in their sugar content.
Consider these sugar alternatives (and some easy cocktails you can try!) to shake things up a bit at the bar, and check out our handy infographic to find out how much sugar is really in your favorite sweeteners.
1. White Simple Syrup
Calories:39
Carbs: 10 g
Simple syrup is one of the most commonly used sweeteners, so you are more likely to find it on the shelf at your local bar. What is simple syrup? It's not anything fancy, yet it's the top choice of bartenders all around the world. This syrup is essentially a mixture of equal parts sugar and water that is heated until the sugar dissolves. It's an excellent choice for classic sweetened cocktails with intense, sugary flavors. While it's no better for you than regular sugar, it is a perfect choice for a wide range of cocktails.
Our Recipe: The Nutcracker Flip
This wintertime favorite incorporates Azuñia Añejo Tequila, Ron Abuelo 12 year rum, Nocello walnut liqueur, and a few other unique ingredients (like a whole egg!) to create a warming cocktail. It calls for .25 oz of simple syrup and is garnished with a dehydrated orange wheel and fresh nutmeg. Try the Nutcracker Flip recipe.
2. Honey
Calories:64
Carbs: 17.5 g
While you can use any kind of honey to sweeten a cocktail, clover honey is one of the most common because it has the least amount of other interfering, underlying flavors. It is not used in cocktail recipes by itself very often but can be substituted for simple syrup with a little bit of dilution.
The tastes of different kinds of honey will vary quite a bit depending on the species the bees were visiting, but keep in mind that honey is an excellent choice nutritionally as well as gastronomically. It contains protein as well as other trace nutrients. While the quantities of these nutrients are likely negligible, the nutritional value of honey is still higher than that of regular cane sugar.
Honey is often used as a syrup in cocktails by heating it and dissolving it with equal parts of water. It comes in low on the glycemic index and once it's cut down with water, is even better for you. It's a great choice in a citrusy drink, like the one we suggested here, in particular.
Our Recipe
This recipe brings together everything that is fantastic about late summer, from fresh lemons to ripe strawberries. For this drink, you'll combine Azuñia Añejo Tequila with Lillet Rouge, Mesquite Honey Syrup, fresh lemon juice, a strawberry, and just a dash of Angostura. For more, check out our recipe for Raise to the Fraise.
3. Maple Syrup
Calories:53
Carbs: 13.5 g
Made from the sap of maple trees, maple syrup is often used as a cocktail sweetener, offering a large percentage of sweetness without the chemical taste of many other kinds of sweeteners. While it's commonly used as an alternative to rich simple syrup, it is usually only used in cocktails that call for it specifically, as it imparts a strong maple flavor.
If you're using maple syrup to sweeten your drink, you'll want to use a darker syrup for a more molasses flavor. Although maple syrup is not necessarily better for your health than regular cane sugar, it is the source of several vital nutrients like calcium and zinc. But that's not all. Maple syrup has numerous other health benefits, which you can read about in this article by ManyEats.  Also, it's an excellent substitute for simple syrup in an Old Fashioned. Plus, maple syrup is about one and a half times sweeter than regular simple syrup, meaning you can use less of it to achieve an equally sweet taste.
Our Recipe
This drink takes the classic Manhattan and brings it west. You can use Azuñia Black tequila with about three-quarters of a teaspoon of fresh maple syrup. The only other thing you'll add is four dashes of orange bitters, and you'll have a refreshing drink that can be served over rocks. View the complete recipe for the Manhattan Goes Hollywood on TownandCountryMag.com.
5. Agave Syrup
Calories:30
Carbs: 6 g
Agave syrup is one of the sweetest of all cocktail sweeteners and can be used as a substitute for simple syrup when diluted. It is an excellent fit for lemony cocktails in particular. Agave is also a popular sweetener for tequila because it's made from the same blue agave plant.
It is low on the glycemic index, giving you all the sweetness of an artificial sweetener with fewer of the disadvantages. It has a very thick texture, so it should be shaken instead of stirred. If you're looking for low sugar cocktail recipes, however, agave syrup is the way to go.
Our Recipe
Time for a classic margarita. This spin on the classic cocktail requires no sugar, as it gets all of its sweetness from agave syrup. You can use any type of tequila, but we recommend the Azuñia Blanco tequila. Besides the tequila and agave syrup, all you will need to add is some fresh lime juice and some lime wedges to garnish. Shake, pour over ice, and enjoy. For more information, view the full recipe for our signature cocktail, the Organica.
6. Brown Sugar Syrup
Calories:52
Carbs: 13 g
Brown sugar is white sugar with a bit of molasses, so it can be a little less refined than regular cane sugar. Of all the cocktail sweeteners, this one pairs best with complex tones like those in coffee or herbal cocktails. It may not be much better for your health than standard cane sugar, but it can add a richer flavor so that you don't need to use quite as much in your cocktail.
Our Recipe
This tasty, warm cocktail, known simply as Butter, brings together the mild flavors of Brown Butter infused Azuñia Black with Smith & Cross Jamaica Rum, Lustau Palo Cortado Sherry, brown sugar syrup, orange bitters, and more. It's easy to make and is garnished with a dehydrated banana chip and star anise, giving it a tropical flair.
7. Stevia in the Raw
Calories:0
Carbs:5
A zero-calorie sweetener derived from the Stevia plant, this natural sweetener is about two- to four- hundred times sweeter than sugar. Stevia is a widely available herb and was used as a traditional remedy for stomach pains and burns. Now, it has been suggested that stevia has the potential to treat endocrine diseases, although more research is needed. It's a great alternative to artificial sweeteners and certainly has its place in mixology.
Our Recipe
Kombucha is all the craze in the health food world these days, offering health benefits particularly regarding your digestive tract. This Kombucha margarita is a healthier take on the classic margarita, with a fizzy and tart flavor that creates the perfect summer cocktail. It uses stevia to taste (honey can be used as well) along with 3 oz of Azuñia Blanco Organic Tequila. Check the recipe out here.
8. Splenda
Calories:0
Carbs: .5 g
Splenda is a popular artificial sweetener, also known as sucralose, that is about 600 times sweeter than sugar. This popular non-nutritive sweetener was approved for use in 1998 and is often found in commercially packaged foods. It stays sweet even when used at high temperatures, making it a good choice for baked goods or cocktails that need to be heated.
9. Xylitol
Calories:30
Carbs: 10.5 g
Xylitol is another natural sweetener, a sugar alcohol that is a derivative of xylose. This sweetener is produced from birch bark and corn cob. While it is a natural sweetener, it is harder to digest, meaning it could cause some digestive issues. That being said, xylose is low on the glycemic index, so it is often recommended as an alternative to sugar.
10. Coconut Sugar
Calories:45
Carbs: 12 g
Coconut sugar is natural, made from coconut palm tree sap. It provides roughly the same number of calories and carbohydrates as regular cane sugar, but it contains less fructose and glucose than regular refined sugar. This means it can be slightly better for your overall health as it is lower on the glycemic index. With a taste similar to that of brown sugar and the coloring of caramel, coconut sugar can be used in most cocktail recipes where you would usually use sugar.
Our Recipe
Margaritas have never truly been regarded as a health food, but this cocktail recipe takes things to that exact level. The Chia Margarita uses chia seeds (rich in omega-3s) and Azuñia Blanco Organic Tequila as well as coconut sugar to sweeten it up. It's a refreshing take on the margarita that won't make you feel guilty about having a second or third. Find the full vegan cocktail recipe on onegreenplanet.org.
11. Yacon Syrup
Calories:39
Carbs: 10.5 g
Yacon syrup is extracted from the yacon root, which is indigenous to the Andes mountain region. This sweetener has been used by native people for hundreds of years and is sweet-tasting with a dark, thick consistency, not unlike molasses. Yacon syrup is an excellent source of dietary fiber and has fewer overall calories than sugar.
12. Molasses
Calories:61
Carbs: 15.7 g
Molasses, the South's cocktail sweetener of choice, is the dark byproduct of the sugar making process. It has a unique, rich flavor that is ideal for sweet, dense cocktails. While there are several types of molasses, all of it is obtained from raw cane sugar. It is highly nutritious, mainly when purchased in its organic form, and contains copper, iron, calcium, potassium, manganese, and a whole host of other nutrients.
Our Recipe
The Reppoccino is a perfect job for molasses. This cocktail is a warming drink, adding a bit of heat and best served with a shortbread cookie. To make it, combine a shot of Azuñia Reposado Organic Tequila with a teaspoon of molasses. Note that this recipe traditionally calls for a sugar cube, which is roughly half a teaspoon of sugar. Molasses is an adequate substitute, giving your cocktail a richer flavor. You'll also add hot black coffee, cinnamon, whipped cream, and other ingredients to give this classic cocktail an indulgent finish.
13. Karo (Light or Dark)
Calories:60
Carbs: 15 g
Karo is a commercially prepared syrup from cornstarch. Also referred to as corn syrup, it is usually the darker version of the product and can be used interchangeably. It is ideal in cocktail recipes where a delicate, sweet flavor is needed.
What cocktail has the least sugar?
Coming in under 150 calories, we recommend theAzuñia Organica, an organic skinny margarita, made with four simple ingredients:
1.5 oz Azuñia Blanco Organic Tequila
.75 oz Azuñia Organic Agave Syrup
1 oz Fresh organic lime juice
Splash of water
Method
Combine all ingredients in an ice-filled cocktail shaker. Shake vigorously for 10 seconds and pour into a glass. Garnish with an organic lime wheel.
INFOGRAPHIC: Which type of sugar is best for cocktails?
Ready to give Azuñia tequila a try?
Sip Azuñia tequila neat or give one of these delicious cocktails a chance – and make sure you experiment with all of these alternative cocktail sweeteners. You'll be able to enjoy your drink in style, without having to worry about the health impacts of artificial sweeteners.
If you're thirsty for more recipes just like this, sign up for our newsletter, where you'll be the first to receive hands-on tips, guides, and new cocktail recipes.