Looking for some fun Valentine's Day cocktail ideas? Whether you're having a party at home or staying in with your special someone, impress your sweetheart and your guests with Valentine's Day cocktails made with Azuñia Tequila. You'll fall in love with these delightful drinks that are fun, flirty, and delicious. Most importantly, they're easy-to-make!
Our Favorite Valentine's Day Cocktails
Ruby Rojo
Red cocktails make for a perfect Valentine's drink and are a must-have for your stay-at-home-date night. The Ruby Rojo was created in celebration of Port Wine Day and named by an adoring Azuñia fan. This luxurious libation combines ruby port, Amaro Montenegro, and bitters along with Azuñia Reposado, an award-winning organic tequila that's aged in American Oak barrels for up to 8 months.
Reppoccino
The Reppoccino is truly a coffee and tequila love affair that will warm your heart and soul. Combine black coffee, sugar, and Reposado tequila, and this cocktail is guaranteed to keep your night grooving. Whipped cream, a shortbread cookie, and a sprinkle of cinnamon make the Reppoccino a delicious dessert cocktail.
Happenstance
The best things happen through Happenstance, including love and romance! A beautiful marriage of apricot liqueur, Yuzu, lemon juice, green tea syrup, and Blanco tequila. This award-winning tequila offers a hint of lemon, tropical notes, and light pepper. Don't forget the orange bitters, and be sure to add a sprig of thyme for a fresh note. Of course, this delightful green cocktail will be sure to impress.
Raise to the Fraise
Valentine's Day is the ideal occasion for bright and flavorful pink cocktails and strawberries. Therefore, the refreshing Raise to the Fraise is an excellent choice to indulge in with your sweetheart. This fruity cocktail is made from mesquite honey syrup, muddled fresh strawberries, Lillet Rouge, Angostura Bitters, a squeeze of lemon, and features our award-winning Añejo tequila.
Amatitán Old-Fashioned
Timeless, classic, and luxurious, the Old Fashioned is a drink with a long history. Likewise, our Amatitán Old Fashioned leaves a lasting impression. This Valentine's Day, this traditional drink represents old fashioned love, romance, and longing. This mix of Añejo tequila, Diplomático Reserva Exclusiva Rum, Angostura Bitters, and sugar will surely make it a night to remember.
Cerveza Fresa
Looking for a pink cocktail that's refreshing, exciting, and amazingly delicious? The Cerveza Fresa is a delightful tequila beer cocktail. Combine your favorite Mexican-style lager with a little Blanco tequila, strawberry, lemon, and bitters for balance. Pretty in pink with just the right amount of fruit!
Red Velvet
A simple twist on a traditional Manhattan, the Red Velvet is smooth and straightforward. To make this cocktail, you only need three ingredients: Apertivo Select, vermouth, and aged Añejo tequila. This ravishing red libation complements any course, including sweet desserts like strawberries and chocolate.
Rosalee's Downfall
Of course, what's better than a lovely bouquet of roses on Valentine's Day? Rosalee's Downfall is a gorgeous tequila and rose cocktail you'll fall in love with. Incredibly alluring and tempting, this drink is comprised of Azuñia Blanco organic tequila, house sour, rose petal mango liqueur. Lastly, the rose petals for garnish to make this cocktail extra romantic.
Adonis Chariot
In Greek mythology, Adonis was known as the god of beauty and desire. Embrace your inner Adonis with a sophisticated Valentine's drink. Certainly, the Adonis Chariot fits the bill nicely. This cocktail is made with Azuñia Reposado organic tequila, Amontillado Sherry, Spanish Vermut, and orange bitters. This cocktail is the perfect combination of vanilla and mild oak flavors along with a sweet nuttiness.

Añejo Tequila Manhattan
When it comes to cocktails, it doesn't get more classic than Manhattan. For a passionate twist on the original version, try the Añejo Manhattan. Made with tequila instead of bourbon, this drink boasts a richness you'll love. Plus, it's a gorgeous reddish hue—perfect for a festive cocktail.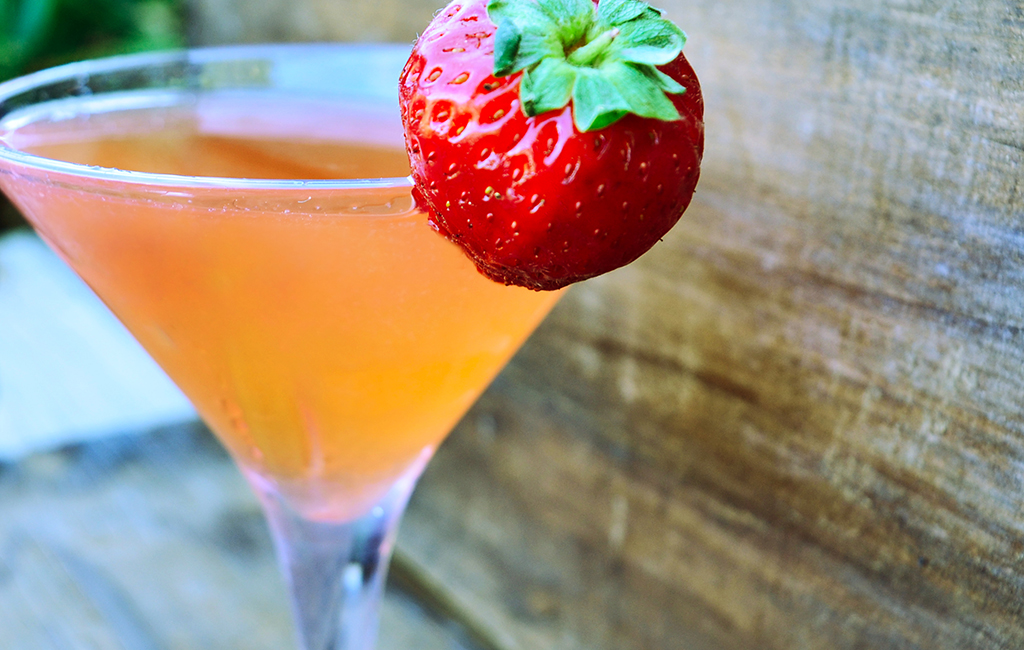 Strawberry Basil Martini
Strawberries and basil go together beautifully, and they join forces in an amazing Strawberry Basil Martini. Sophisticated and delicious, this pink cocktail features Azuñia Blanco organic tequila. Then, combine muddled strawberries, fresh basil, and lemon juice. Lastly, this cocktail is sugar-kissed with homemade simple syrup.
21stCentury
White chocolate is synonymous with Valentine's Day. So, what better way to enjoy both than in a simple cocktail? Sophisticated and decadent, you only need four ingredients to create the 21st Century: Azuñia Blanco organic tequila, White Crème de Cacao, fresh lemon juice, and absinthe. Cocoa and vanilla flavors make this an ideal after-dinner drink.
You don't need to go out to have a wonderful time—there are plenty of Valentine's Day date ideas if you want to avoid the crowds. Still looking for a Valentine's Day gift? Azuñia tequila makes the perfect gift for him or her.